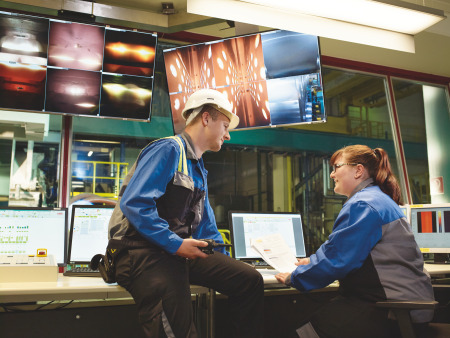 It is our skilled workers who manage, maintain, and repair our production facilities. They guarantee that day in, day out, we can produce the high-quality products which are so valued by our customers around the world. And these products can be anything: one day steel for pipelines, the next axle-bearing tubes for the automotive industry. We pay particular attention to providing modern and safe workspaces which meet both the latest technical and ergonomic standards.
High-quality training & continuing professional development
We know that demanding tasks can only be completed under first-class conditions. They start with training our skilled workers. Over the past 70 years we have trained more than 25,000 skilled workers in our in-house training centers in Austria and Germany.
When it comes to continuing professional development, we offer a very broad range of courses, from forklift licenses and the like, right through to tailor-made development programs. They include our "Employees train employees" program, for example, in which experienced workers pass on their knowledge to colleagues in the form of short courses, as well as our in-house development program for aspiring foremen and masters. We also place great importance in continuing professional development at voestalpine: to the tune of 800,000 hours, and a budget of more than EUR 60 million.
Top performances only possible under optimal conditions
Many skilled workers at voestalpine work on shift operations, because it is not possible to shut down facilities such as blast furnaces overnight. We can't simply "eradicate" shift work, but we can improve the framework conditions.
We work ceaselessly to offer our employees both a challenging work environment as well as attractive working conditions. They include instruments such as regular employee satisfaction surveys, an annual employee bonus scheme when the company has done well, flexible working models, also for shift workers, and childcare.
We are particularly proud of our employee shareholding plan in which the employees participate in the success of voestalpine by holding shares in the company, simultaneously taking on the role of the Group's second largest shareholder. Currently 24,400 employees in 12 countries hold a total of 14.8% of the voting rights.
What do all 51,200 employees worldwide have in common? Delight in innovation, complete commitment, and a strong team spirit. As a result, every single one of us, whether apprentice, executive, skilled worker, or technical expert, contributes to our success. That's how we work as a Group.