Glossary
Recruiter: contact person for the applicant
Personal statement (also known as a cover letter): a short explanation of why you wish to work at voestalpine
CV = Curriculum Vitae (resume)
CV parsing = automated retrieval of data such as name and education from a CV uploaded to the voestalpine online job portal
Unsolicited application (or speculative application): where there is no advertised vacancy for which an applicant can apply
Specialist department: department seeking personnel
Job alert: job newsletter: the online job portal allows you to specify your ideal job criteria; you will then be sent an email when a suitable vacancy arises
Our application process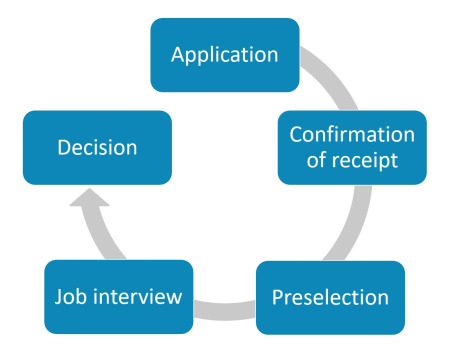 1. Online applications preferred
All open vacancies are posted in the online job portal of voestalpine. We are happy to report that we receive about 82,000 applications every year. We prefer to receive online applications submitted via our online job portal to comply with the data protection regulations and ensure applications are processed quickly. Use the CV parsing option to make the application process even simpler: the system automatically extracts specific data from your curriculum vitae to fill out the online formula.
Naturally, we also accept applications submitted by email and post, but advise that this can lead to longer response times.
2. Confirmation of receipt of application
After submitting your application you will receive an automated email which confirms receipt of your application and notifies you of the relevant contact person. Should further documents or information be required, your contact person will be in touch by email or telephone.
3. Preselection
Our job vacancies are usually posted online for a period of around 4 weeks. We wish to ensure that all candidates have an equal chance, and therefore we only begin the preselection procedure once the application deadline has passed.
4. Job interview
We will invite suitable candidates for an interview to be held either via telephone or in person. Depending upon the position in question, the interview process may consist of several stages. A recruiter will provide you with more detailed information about the person you will be talking to and the process awaiting you.
5. Decision
If you are offered the position, you will be given all the information you need about working at voestalpine in good time, together with the documentation you will require during your first few days at the company. Even if your application was unsuccessful, we reply to every single applicant in person. We understand that a rejection will initially be disappointing, and so we thank you once again for having taken the trouble to apply.
Frequently asked questions (FAQs):
You'll find our current job offers at voestalpine directly on the Group home page, under the menu item 'Jobs'. The 'Job Search' button takes you to the online job portal which lists current vacancies:

Our online job portal is organized by open positions and the relevant business operating area and application requirements. You can filter your search in the job portal according to various criteria including location, category (IT, HR, engineering...), company, or type of employment (internship, apprenticeship, academic thesis…). The postcode search is an additional search criterion, allowing you to limit your search to within a set kilometer radius. Looking for jobs while on the move? No problem – the online portal is responsive, adapting to display on any mobile device.

Ideally applicants should apply using the online application form on the job portal, either directly, in response to an advertised job vacancy, or as an unsolicited application, under the menu item 'Unsolicited Applications'. Alternatively, you can send us your application by email or by post. We ask all applicants to use the online application form wherever possible.

The application form is structured according to the type of job vacancy. Each application form requests only content relevant to the position in question. For example, application forms for apprentices do not include professional experience, but do include details of legal guardians. The most important sections are: 1.Personal details (name, contact information), 2.Education, 3.Professional experience and additional expertise, 4.Documents: Cover letter, CV, certificates, photo. After completing the online application you will be issued with your personal access data which allows you to access your application on the job portal. Now you can log in at any time to update your contact details or to check the status of your application. We suggest you register with the application portal under the menu item 'Login' before filling in the online application. This allows you to temporarily save your application, and continue working on it at a later date, if necessary. The completed application form will be saved, and you can use this to apply to other Group companies without having to re-enter your data.

If you have the relevant documentation already prepared, then you'll usually need around 15 minutes. It's even faster if you use our CV parsing function. Simply upload your CV into the corresponding upload field at the beginning of the application process: your CV will be scanned and several fields in the application form automatically prefilled with information from your CV. Before filling out the form, use the overview function in the application form (see 'Summary') to find out more about the structure of the application form and to check your data prior to submission. (It is particularly important to check the information if you use the CV parsing function.) Please note that the application form contains a few mandatory fields (personal details, highest level of education, professional experience...). The mandatory fields are marked *. You can also provide us with additional information, including any extra qualifications or language abilities. We'd like to use your application to get a first impression of you as a person, and welcome detailed information over and above that required in the mandatory fields: use this opportunity to demonstrate your abilities and knowledge, and tell us why you want to work for us.

Are there no job vacancies currently available that match your goals and qualifications? Then we'd be happy to receive your unsolicited application. Use the opportunity to sign up for our job newsletter as well. Register in the job portal and select the fields in which you are interested. Emails are sent out on Fridays listing current job vacancies relevant to your selection criteria when suitable job vacancies arise.

The voestalpine Group is made up of many individual companies, each of whom recruits their own personnel. Therefore each application is made to a particular Group company. The online job portal groups vacancies by voestalpine company in order to make the search for open positions easier. Each job description includes the relevant contact person and a link to the company website where you'll find more information about that particular company. Under the job title in the job description you'll find a link to the company website. If you are making an unsolicited application, then please indicate the company to which you are applying.

On the last page of the online application form you can indicate whether your application should be entered into the voestalpine Group-wide application pool. If you agree, then you will be also asked to specify the regions (desired location, national or international) for which your application may be considered. Depending upon the information given in your application form, the recruiter can then move you to the relevant application pool. This is particularly relevant where the recruiter working for one company is unable to offer a suitable position, but finds your profile interesting and would like to share it with other recruiters within the Group. By agreeing to be entered into the Group application pool you increase your chances of a career within the voestalpine Group.

Not all voestalpine Group companies allow you to apply online. The job portal currently includes jobs open at companies in Austria, Germany, Australia, Brazil, India, South Africa, Great Britain, Northern Ireland, the Netherlands, Sweden, Canada and USA. If you are interested in working for a particular company, you'll also find further job vacancies advertised on each individual company website. You'll find an overview of all the locations with general contact information on the voestalpine map.

Yes. Once you've registered with the online job portal, you will be issued with your personal access data. The completed application form is saved, and you can use it again to apply to other companies without having to re-enter all your data.

Our job vacancies are advertised for around 4 weeks. In the overview list on the job portal you'll find the date at which each application closes, listed next to each job vacancy. In the meantime, we will confirm receipt of your application and provide you with the name of a contact person. As your application will be thoroughly examined by the relevant specialist department as well as by human resources, the selection process can take some time. You can get in touch with the contact person at the relevant company at any time if you have any questions.

If you have general questions about applying, then please contact Mario Rührnößl: T: +43 50304 15-4107, Email: mario.ruehrnoessl@voestalpine.com. Where a job vacancy is advertised by a particular voestalpine company, then please get in touch with the contact person specified in the job application.

The voestalpine Group offers an impressive range of opportunities for learning a skilled trade. Currently 47 different occupational trades are offered, primarily in technical fields, at 38 locations in Austria and Germany. You'll find more information about apprenticeship training, the skilled trades, training locations and much more on the voestalpine apprentice website.

Yes. Last year alone more than 2,000 young people completed an internship at voestalpine in Austria. Most places are available in production (some on shift operations) and in offices, although internships in offices are limited in number. The earlier you apply, the better. You'll find available internships advertised on the online job portal, or you can submit an unsolicited application.

The application deadline is listed next to each job vacancy advertised on the job portal. For unsolicited applications, the deadlines provided by the companies apply. The site information sheet gives the relevant application deadlines and contact persons for Austria.

In addition to job vacancies, the online job portal also lists offers for Bachelor and Master dissertations and theses. You can also make an unsolicited application for a scientific paper.

voestalpine is looking for graduates in almost all subject areas, although our primary interest is in technical and scientific graduates. The following fields of study are of particular interest: Metallurgy, Materials Science, Mechanical Engineering, Chemical and Process Engineering, Physics + Technical Physics, Chemistry + Technical Chemistry, Automation Engineering, Electrical Engineering, Industrial Environmental Protection, Mechatronics, Computer Sciences + Business Informatics, Economics, Law.

The voestalpine Group offers ongoing trainee programs in a variety of fields at each company location, e.g. sales, finance & controlling, and engineering. You'll find current trainee vacancies advertised on the online job portal. voestalpine also has a high mobility pool: here high-potential, mobile employees have an opportunity to contribute their skills to international projects, thereby getting to know the entire voestalpine Group.

voestalpine takes part in various shows and careers events in order to recruit committed employees. The Group also organizes regular events including open days at the various Group sites. You'll find all the relevant dates under trade shows & events. We look forward to meeting you!

Many applicants are interested in taking a look behind the scenes. Therefore we have set up extra online channels to tell you a little more about the various worlds of work at the different locations. We regularly present occupational profiles, and our 'blogging employees' tell you what it's like working at voestalpine. Every week you'll find new articles about working at voestalpine. Stay in contact!

Overview: Social Media at voestalpine

voestalpine Career on Facebook
Excellent recruiting quality: