We take our corporate responsibility seriously
Steel plays an important role in every area of our daily lives. Each year, around 1,870 million tons of steel are produced and processed worldwide, 7.2 million tons of it by voestalpine. We are actively developing and applying environmentally-friendly steel manufacturing processes, as well as waste management measures and an active environmental protection policy.
We are researching into products which indirectly reduce CO₂, considering life cycle assessment (LCA) and encouraging a life cycle approach through its active involvement in working groups at EUROFER and the World Steel Association.
We meet our social obligations as a company through our comprehensive safety measures, a Group-wide health management system, and a wide variety of opportunities for continued professional development.
Since April 2019, voestalpine is a member of the initiative ResponsibleSteel and commits itself to the 12 principles. The biggest site in Linz was successfully certified according to the ResponsibleSteel-standard in 2021, the creation of which experts of the voestalpine, alongside many other interested parties, were actively involved in.
With the Corporate Responsibility Report we disclose our measures
Ordering the Corporate Responsibility Report
Would you like to get a print version of the voestalpine Corporate Responsibility Report? Please send an email to cr@voestalpine.com with your name and address, giving "CR Report" as the subject heading.
worldsteel Sustainability Charter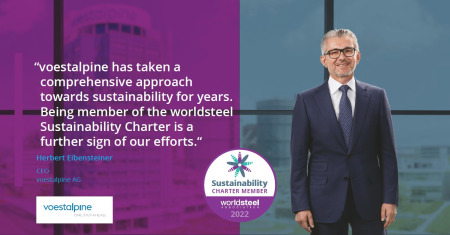 voestalpine has been selected as one of around 40 steel producers invited to sign up to the worldsteel Sustainability Charter. This requires 20 criteria to be met, including publication of a sustainability report and making available environmental, employee, and operational safety performance indicators. The charter comes into effect in March 2022 after signing by the CEOs.
Pillars of corporate responsibility
Daten & Fakten
More about Corporate Responsibility