Low-noise & vibration and maintenance-friendly system solutions for metro systems and commuter railways
The attraction of the big city. Globally, the trend towards urbanization draws increasing numbers of people to cities, attracted there by jobs, educational opportunities and leisure facilities. Increasing urbanization also means ever-increasing traffic levels, both around town and from the suburbs into the city center. Private transport with all its effects is bringing many towns to the verge of a traffic collapse. Consequently, there is a growing demand for local public transport such as subways or commuter railways. Urban life is only sustainable without the automobile. Reliability and safety are the key principles here.
Interaction between vehicle and route is complex, with compact product design proving vital.
A functioning transport network thanks to outstanding technologies. We offer innovative and intelligent products combined with trendsetting concepts. We thus improve service life, availability, reliability and ease of maintenance for rails, turnouts and signaling technology in the urban rail transport sector. Metro signaling systems ensure the safe, punctual and comfortable operation of numerous metro lines all over the world.
Overall solutions from a single source. As a pioneer in economical (LCC) and technical (RAMS) product optimization, we combine cutting-edge technology with systems expertise right down the line. In around 60 sites all over the world, we bundle our knowledge and supply our local customers with products and services tailored to their needs and offering added value. voestalpine Railway Systems stands for maximum efficiency overall solutions – helping customers get ahead in terms of technology and competition.
Rail technology: Heat treated rails for underground systems: 400 UHC® HSH®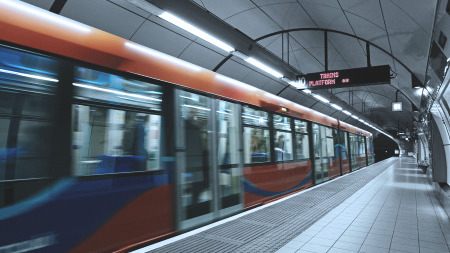 Patented resistance. It is the combination of HSH® heat-treatment technology with an innovative materials concept (UHC® concept) that gives this rail steel grade its high resistance. Based on years of experience, the low alloy concept (non-alloy rail steel) also ensures first-rate weldability of this 100 % pearlitic rail steel, standardized as R400HT.
Subways worldwide run smoothly with us. 400 UHC® HSH®is used in underground railways all over the world. The benefits of this rail steel grade particularly come into play under the challenging conditions found in metro systems. Its resistance to wear and to rail damage during operation recommends it especially for use in curves on subway and commuter railways, minimizing the need for maintenance and renewal work.
Low wear. The high wear resistance of the track proves effective against noise and vibrations, with the excellent section stability reducing force in curves and protecting track and vehicles. RCF resistance additionally extends maintenance intervals in the rail network to good effect.
Added value:
Reduction in noise and vibrations due to deferred rail corrugation
Maximum service life in the track and minimal maintenance costs
Lowest possible life cycle costs (LCC)
Available in all sections to EN, AREMA, other standards and customer specifications
Use in the turnout for continuous optimization of track
First-rate weldability
Tightest tolerances and top surface quality
Turnout systems: Sustainable turnout systems for metros in urban rail transit
Continuous improvement. We constantly working to further develop our turnout technology. This allows us to offer our customers innovative and efficient solutions, which are optimized in line with the ever-increasing demands on public infrastructure.
Growing need for mobility - urban traffic. If we are to meet the growing need for mobility, first in conurbations, to optimum effect, special high-performance, economical, environmentally compatible and convenient system solutions are required. We work hand in hand with customers to develop concepts, which fulfill individual needs and circumstances to optimum effect.
Optimized life cycle costs. Our products, which are optimized for life cycle costs, promise maximum availability, reliability and ease of maintenance (robust design). They also ensure fast installation, replacement and track possession times due to the use of pre-assembled parts, in addition to efficiency and durability.
Innovative products and system solutions for maximum requirements:
System turnouts and diamond crossings
Optimized switch blades
Crossings (manganese and built-up)
Base-plate / fastening systems
Sleepers (concrete, composite, wood)
Slab track and special solutions
Expansion joints
Comprehensive service package
Added value:
System responsibility / everything from a single source
Customized solutions for individual problems
Innovative solutions with high-resistance materials
Expertise in all track/fastening systems
Focus on solutions based on years of experience
Comprehensive references on all continents
Discover our signaling solutions & track services for all rail traffic types:
How can we help you?
If you have questions or feedback, please feel free to contact us. We are happy to help!