High-quality maintenance service by rail and turnout milling
High passenger numbers in urban transportation require increasingly dense cycle times and a tendency towards 24/7 operation in some cities. Densely populated urban areas require low emissions. In addition, there are high safety and comfort requirements in passenger transport. As a result of these challenges, infrastructure is deteriorating faster.
Operational rail degradation is the main driver for rail maintenance in tracks and turnouts. Insufficient rail and turnout maintenance leads to:
High costs for the renewal of track components due to reduced service life
Service interruptions and thus reduced availability
Noise emissions resulting in complaints from residents
Increased safety risks
Rail milling and turnout milling in the course of track maintenance are operations that improve track condition and make passenger transportation safer and more comfortable.
voestalpine Track Solutions Germany GmbH, a company of voestalpine Railway Systems, operates an on-track MG11 milling machine. The machine is used for rail processing in tracks and turnouts in the course of regular maintenance cycles. MG11 means Milling-Grinding-Unit, i. e. the machine has one milling and one grinding unit and achieves a material removal of up to 1 mm per pass. The grinding unit ensures that the milled surface is smooth. In this way, operating noises are reduced, which is important for neighboring residents.
With the MG11's compact clearance profile, flexibility to adjust to different track gauge and the additional possibility of machining turnouts and grooved rails, the main areas of application are:
Urban transport such as light rail systems
Metro systems and especially tunnel areas
Maintenance service for metros and light rail systems with the new MG11
The adjustable material removal of up to 1 mm per pass makes it possible for the first time in these applications to completely eliminate operational rail damage as well as to restore a like-new rail condition. The trailing grinding/polishing unit creates a smooth rail running surface in accordance with the requirements of EN13231. The resulting machining residues are completely removed by the machine.
Milling wheel:
Rail re-profiling by means of a rotary milling wheel
Enables precise restoration of the target profile
Polishing wheel/grinding wheel:
Trailing polishing/grinding to create a smooth surface with low operating noise
Exceeds the requirements of EN13231
The rail milling technology is complemented by customizable rail condition monitoring, which enables targeted use of this high-performance milling machine.
In addition to pure rail milling, it is now possible for the first time to mill turnouts almost completely with the MG11. Our MG11 is the first of its kind, which has an integrated switch machining module.
Life cycle approach - maintenance concept of rail & turnouts meets operator demand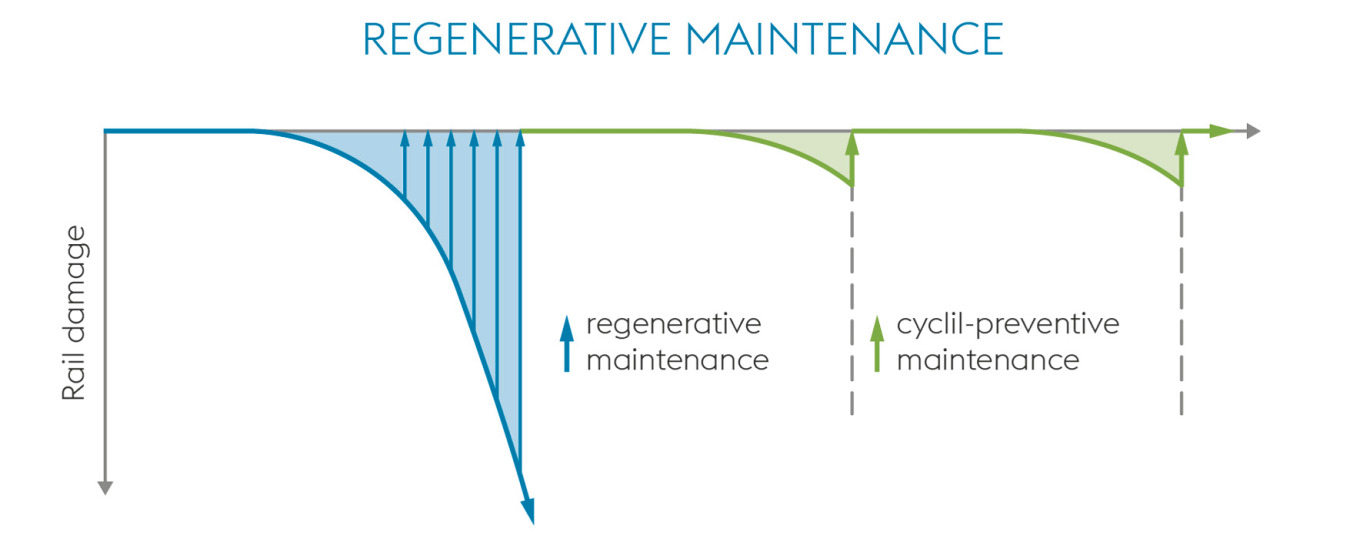 Customer benefits:
Significant extension of rail service life by:

Complete elimination of operational rail defects and restoration of a like-new rail condition
Regular preventive maintenance for preservation of a like-new rail condition
Complete re-profiling of the rail during machining

No undirected sparks and therefore no fire hazard
Complete removal of residue from rail machining (>99%)
Low operating noise
High cost-effectiveness due to high machine performance
Milling and polishing in one pass
Milling of turnouts as well as vignol and grooved rails
Power: up to 600 meters/h milling speed
Material removal: up to 1mm per pass
Rail inspection & monitoring
Inspection and monitoring provide the basis for efficient maintenance. voestalpine Track Solutions Germany GmbH offers a mobile and flexible rail inspection and monitoring service concept, in cooperation with its partner PJ Messtechnik GmbH. This service concept requires measurement sensors to be mounted on any customer vehicle in order to carry out the measurements automatically. The utilization of special measuring trains is not any more necessary. Due to the characteristics of this service concept, it is particularly suitable for use on metros, trams, and industrial railways.
The following parameters can be determined by using the measurement set-up:
Transversal rail profile quality
Longitudinal rail profile quality
Vertical rail wear
Track gauge
With this measured data, different rail wear conditions and rail surface defects can be detected.


In relation to mobile rail milling technology, there are two main areas of application for the monitoring service concept:
Measurement campaign before milling provides the basis for operational planning
Measurement campaign after milling as proof of defect removal and condition improvement
Customer benefits:
Determining the rail condition for entire networks
Extremely flexible and efficient due to simple installation on customer vehicles
Optimal basis for maintenance planning
Verification of the effectiveness of maintenance activities
Possibility to analyze the development of the rail condition over time through recurring measurements
How can we help you?
If you have questions or feedback, please feel free to contact us. We are happy to help!