Freight and heavy haul transport
Growing demand and extreme conditions - hard labor for the track. Freight and heavy haul transport are increasingly shifting to the railways. This is due to the ever-increasing demand for energy and raw materials combined with growing global awareness of safety and the environment. Even customers whose core business often lies outside railway infrastructure find themselves confronted with the associated challenges. It is necessary to cater for ever-greater capacities and axle loads. Extreme weather and environmental conditions such as snow or ice, desert sands or temperature fluctuations have to be mastered, as well as long distances. Resistance is in required.
Fierce competition. In a fiercely competitive sector, there is a need for innovative, tailor-made freight rail system solutions if customers are to be guaranteed safety, economic efficiency and availability. We develop individual concepts that cater for the needs and circumstances of each customer to optimum effect.
Low maintenance and high economy. Our systems, which are life cycle costs (LCC) optimized, guarantee maximum service life and efficiency with long maintenance intervals. Maintenance of our rails, turnouts and signaling technology is also simple, along with the monitoring/diagnostic processes in the heavy haul sector. As a pioneer in economical (LCC) and technical (RAMS) product optimization, we combine cutting-edge technology with systems expertise right down the line.
Rail technology: Heat-treated super premium rail quality for freight traffic: 400 UHC® HSH® Product line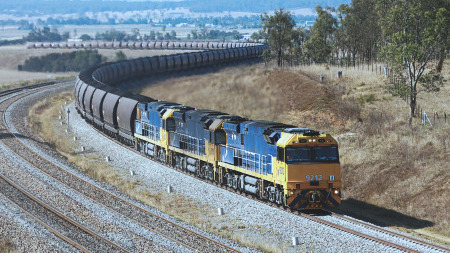 Weather and the environment. Premium quality, from the desert to the polar tundra. Top performance not only under extreme environmental conditions, but also in regions with aggressive wear – e.g. sand in wheel-track contact: 400 UHC® HSH® Product line.
Our expertise - your safety. This fine pearlitic rail quality is manufactured according to a special metallurgical principle (Super Premium concept) and is also standardized as R400 HT in the EN13674 norm.
Use of the globally patented HSH® heat treatment technology not only provides maximum resistance in wheel-track contact, but at the same time extreme endurance in web and foot.
Manufactured in lengths of up to 120 meters, these rails are available in all sections satisfying a huge range of standards and specifications:
400 UHC® XR HSH®: the robust, high-end rail for outstanding performance and efficiency in the track - our recommendation for heavy haul applications.
Other grades:
400 UHC® HSH®: the classical solution for rail freight requirements.
400 UHC® CS HSH®: the CS series encompasses individual solutions, adapted to specific customer needs.
400 UHC® P HSH®: upgraded performance with increased resistance for heavy haul applications.
Added value:
Maximum resistance to rolling contact fatigue
Maximum resistance to wear and rail corrugation
First-rate weldability thanks to non-alloy steel design
Clear reduction in rail maintenance effort due to outstanding track performance
Significant increase in service life in the track compared with common high-strength steel grades
Maximum availability with minimum life cycle costs
Turnout systems: Strong turnout system solutions for freight traffic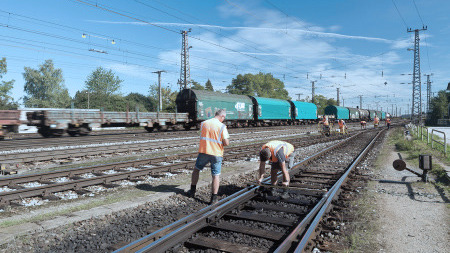 Great pressure on turnouts. Freight and heavy haul rail transport or railways involves extreme technical requirements in relation to load and resistance levels. Our turnout systems guarantee maximum safety, economic efficiency and availability – including with very high load values.
Our experience, your benefit. We support our customers in a fiercely competitive sector, offering them our expertise and services to give them a decisive infrastructure advantage, leaving them free to fully focus on their core business.
Innovative products and system solutions for maximum requirements:
System turnouts
Switch devices with optimized geometries and rail materials
Movable point frogs
Manganese frogs, weldable (explosion-strengthened)
Diamond crossings
Spring frogs
Base-plate systems
Sleepers (concrete, wood, composite, steel)
Fastening solutions
Extensive service package
Added value:
Robust and economical customer system solutions – LCC-optimized
Lower maintenance costs/longer service life
Maximized track availability
Materials and geometries optimized to requirements
Extensive global applications experience with virtually all conditions of use
Automatic tamping due to use of hollow steel bearers or drives on sleepers
Discover our signaling solutions & track services for all rail traffic types:
How can we help you?
If you have questions or feedback, please feel free to contact us. We are happy to help!