The Duisburg facility is characterized by its central location in the Ruhr area and its large storage capacity for long rails of up to 360 meters.
Facility area: approx. 76,000 m2
Storage capacity: approx. 1,700,000 m of rails
Length of facility: approx. 2,000 m
Storage of: 120, 180, 240 and 360 m rails and all individual lengths
1952: Founded by the Rheinstahl company for processing old rails in initial lengths of up to 30 metres

1961: Expansion of the plant to guarantee delivery lengths for old and new rails of up to 120 metres The old rails have since been processed by the Deutsche Bundesbahn

1972: Takeover of the plant by Stahlberg Roensch KG and further expansion of the plant to a length of 2,000 metres with a width of 60 metres

1992: Expansion of the loading facilities to a rail length of up to 180 metres

1996: Expansion of the loading facilities to a rail length of up to 360 metres

2007: Majority takeover of the plant by voestalpine AG with headquarters in Linz, Austria
Ralf ZIEGLER
Managing Director - CEO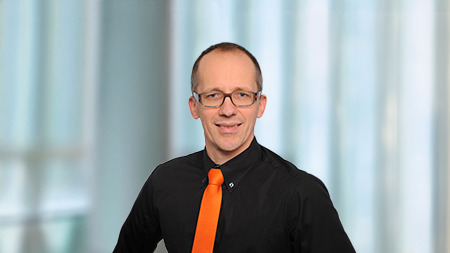 Günter SORGMANN
Managing Director - CFO
Innovations at voestalpine Track Solutions Duisburg
In order to meet the high demands of modern European railways, voestalpine Track Solutions Duisburg GmbH offers special innovations.
A special feature are the ultra-long rails with a length of up to 360 meters. They offer significant economic benefits:

More rails per shipment = lower freight costs
Faster construction progress = higher productivity

New rails welded like rolled
Improved driving comfort while reducing maintenance costs
Our production process allows us to machine the weld area and the entire rail, enabling us to produce up to 360 meters of rolled rail with tolerances
The longitudinal flatness of the finished rolled product is significantly improved and the track geometry is positively influenced
Applications
Site-specific rail conveyors delivered just-in-time to the construction site. Modern rail systems must meet the highest technical and economic requirements. Through the use of extra long rails and a special welding process for the production of rail strips up to 360 meters long - on request even "roll-skinned" for immediate traffic - we offer the "ne plus ultra" for the rail traffic of the future.

The large storage and handling capacity with several independent loading stations makes it possible to supply up to 20,000 meters of welding strips and accessories per working day.

Our specialties include

Rail bands up to 360 meters long
Pass rails of any length
Insulation joints of any type
Transitions in all profile combinations
Custom made products to customer specifications

In addition to the processing of new rails, we also offer the processing of old rails. The rails are processed according to railway standard 918 255.


Old rails up to 180 m in length are received from construction sites and stored in batches of up to 120 m.
The damaged areas are cut out of the old rails, then the rails are straightened vertically and horizontally and the top edge is deburred. The rail is then subjected to ultrasonic testing. The prepared rails are then welded into long strips. After straightening and grinding, the rail head is reprofiled.

The result: Prepared rails that meet or exceed Deutsche Bahn Standard 918 255. A new product for less stressed tracks.

As part of the bundling of core competencies within the voestalpine Railway Systems Group, we offer you the development and construction of extensive track and turnout systems for the equipment of tunnel construction sites worldwide. Your familiar contact persons at former voestalpine Klöckner Bahntechnik GmbH will now be available to you at voestalpine Track Solutions GmbH:

Design and construction of special solutions for tunnel railway construction, in particular turnout systems, support structures or special tracks
Manufacture and delivery of rails and rail systems with special fastening and connection systems
Delivery and, if required, installation on site, as well as other services related to the tunnel track, e.g. grinding

We design and supply customized solutions for continuous and discontinuous crane runways with A-rails, MAS-rails and Vignol-rails, including the necessary fasteners, pads and substructures.

Services:

Advice: We make customer wishes possible. You will receive competent advice with qualified solutions tailored to your individual needs.
Superstructure Help: As part of our "superstructure help" we serve our customers directly from our extensive warehouse.
Delivery to small job sites: We deliver to small construction sites directly or by groupage, depending on your needs.
Material testing: Our own testing facilities enable us to carry out the necessary tests, such as flexure tests, in a timely manner and to continuously demonstrate the required quality to our customers. We also offer these material tests as an external service.
Wagon repairs: If required, we can repair rail vehicles in accordance with DIN EN 15085.

As part of our logistics, we ensure that

the transports reach the construction site at the desired time - just in time
that the tracks are "on the right side", i.e. that they reach the site in the right direction and in the right order according to the customer's requirements.
The necessary shipping documents are prepared, the formalities are properly completed, and the necessary documents are fully available to the site personnel:

e.g. the rail plan, which graphically shows the order and quantity of rails to be laid.
Information on track category, train speed, track loading and modification date
If the unloaded vehicles are available for reloading.
Quality
We maintain an active dialog with our customers.

Only the highest quality of products and services, combined with competent advice, will meet your and our requirements.

In addition to the product "rail", people are the focus of our actions. Creativity and the ability to work in a team are decisive for the sustainable development of our company.

Our employees are continuously trained.

Our R&D department conducts research in the following areas

Testing technology
Process and equipment development
Welding technology.

By studying rails in the old rail processing, we get a good overview of the requirements of the rails in the track and gain insight into RCF damage and its development in railway operations. With this knowledge, new testing techniques for non-destructive testing of rails can be developed. This development is taking place in close cooperation with rail manufacturers and test equipment suppliers.

In order to ensure state-of-the-art processing and welding technology, it is necessary to continuously develop the production steps and systems for rail processing with regard to welding technology, old and new rail profiling and to adapt them to the best techniques. This requires own tests and developments, which are carried out in cooperation with the supplier industry.

Especially in the field of welding technology, it is necessary to follow the development of steel grades by the rail manufacturers in order to ensure the weldability and the necessary parameters for the welding of new materials. To this end, appropriate test programs are agreed with the manufacturers and carried out on our equipment.

Our affiliation with the world leader in rail and turnout technology ensures that the latest findings are implemented in a customer-oriented manner.

Modern rail transportation places high demands on the track and thus on the quality of our services.

We have a proven track record of meeting the ever-increasing demands placed on man and machine.
Visible signs of this are the successful and always up-to-date certifications.

In addition to the national and international certifications of our management system, these also include the product and process-specific approvals and recognitions that are essential for a rail welding company and quality supplier to the rail network operator.

We will be happy to provide you with our current approvals and certificates upon request.