VOEST-ALPINE AG up to the Break-Up of Austrian Industries AG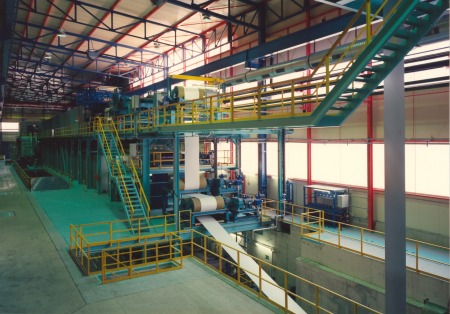 Owing to the events of 1985, an entirely new corporate management is appointed in 1986. The company's workforce is greatly reduced, both in that year and in subsequent years. The Stahlstiftung (Steel Foundation) is founded in 1987 to support those employees who have lost their jobs. This social innovation is aimed at helping them gain skills in new fields or acquire higher skills in their existing professions so that they can be reintegrated into the workforce. By 1991, the Foundation has enabled 700 employees to switch to new fields and/or to improve their qualifications.

Corporate planning is now focused on consolidation, automation, and partial restructuring. In the fall of 1986, the so-called "Concept for a New VOEST-ALPINE" is adopted after a thorough analysis of all of the company's lines of business. A new organizational structure is developed, an automation program is adopted, and an investment program is authorized. ÖIAG provides the requisite funds. These measures are intended to restore VOEST-ALPINE's profitability.

Österreichische Industrieholding AG (ÖIAG) is established under the 1986 ÖIAG Act. In 1988, the fundamental reorganization of the ÖIAG Group leads to the formation of six holding companies and thus to the complete overhaul of the steel sector of Austria's nationalized industries. In 1989, these six sectoral holding companies of ÖIAG are contributed to Industrie- und Beteiligungsverwaltungs-GesmbH (IBVG), a wholly-owned subsidiary of ÖIAG, which is converted into Austrian Industries AG in 1990 and takes the first step in the direction of public ownership by issuing a going-public bond.

In 1988, VOEST-ALPINE STAHL AG, which had been created in connection with the restructuring, achieves the turnaround in almost all of its segments. It comprises six main divisional companies: VOEST-ALPINE Stahl Linz GmbH; VOEST-ALPINE Stahl Donawitz GmbH; Böhler GmbH Kapfenberg; Böhler AG Düsseldorf; VOEST-ALPINE Stahlhandel AG; and VOEST-ALPINE Rohstoffhandel GmbH. A four-pronged group structure emerges in 1989 as a result of further restructuring and concentration: flat products, long products, special steel, and trade.

From then on, the Group focuses its work on promoting high-tech products with ever-increasing degrees of finishing as well as on boosting its internationalization in two directions: West and East. A more long-term objective entails the introduction of environmentally sophisticated, yet cost-effective process technologies.

This results in the adoption in 1987 of, among other things, an ecologically-minded investment program aimed at environmental protection. The emissions data for the Linz site are made public for the first time in 1988.
1989 sees the start-up of both the coil coating line (COLOFER®) in Linz and the horizontal continuous caster as part of the special steel segment located in Kapfenberg. Starting in 1990, VOEST-ALPINE SCHIENEN GmbH & CO KG sets standards in modern rail production by manufacturing ultra-long, special head-hardened rails with lengths of up to 120 meters. The turnout manufacturer VAE AG is spun off from the VOEST-ALPINE Group in 1989 and becomes one of the first entities of the state-owned industry to be privatized in subsequent years.
In 1991, VOEST-ALPINE Krems GmbH expands its profile plant by a new line for special tubes and acquires the Belgian producer of cold-rolled sections, SADEF N.V. This acquisition represents a first important step in the Group's internationalization.
In Kapfenberg meanwhile, the finishing touches are being applied to a new multi-line rolling mill. Europe's most advanced plate testing center opens in Linz in 1992.

VOEST-ALPINE STAHL AG succeeds in substantially improving its strategic position in 1990 by acquiring the Swedish Uddeholm Group (which is merged with the Böhler Group companies the following year to form Böhler-Uddeholm) and by deciding to reorganize the long-product segment.

The plan is to restructure, automate, and strategically realign the companies allocated to VOEST-ALPINE STAHL AG. The new organizational structure—decentralized accountability for both costs and operating profits as well as organization into business segments—which is introduced in 1991 is fully implemented in 1992.

At the end of 1993, Austrian Industries AG is split up into three separate groups under the Austrian Privatization Act: VA Technologie AG, Böhler-Uddeholm AG, and VOEST-ALPINE STAHL AG.