TCCD High-Speed Maintenance Project
The railroad company TCCD commissioned VADEMSAS with the maintenance of several high-speed lines. The total 1,820 km section consists of parts of the Ankara-Istanbul, Ankara-Konya, Ankara-Sivas, and Konya-Karaman lines.
The maintenance contract has been concluded for 2 years and a total of 404 high-speed turnouts are covered by the contract. About 20 employees will work on this project, all of them maintenance experts trained through the turnout master program at the WS Academy in Austria.
As different types of turnouts and geometries are installed on the high-speed lines, the project scope consists of customized maintenance services. In addition to initial maintenance, ongoing, regular maintenance is also carried out. Moreover, geometric measurements and adjustments, non-destructive testing, repair welding, aluminothermite rail welding and grinding, locking device setting as well as required replacements of rails, tongue rails, stock rails, and frogs are demanded.
Mersin-Adana-Gaziantep high-speed train project
The new high-speed line will reduce the travel time between Mersin, Adana, Osmaniye and Gaziantep from 6 hours and 23 minutes to 2 hours and 15 minutes. A total of 312 switches will be installed on a track length of 311 km.
The project is expected to start next summer, with completion scheduled for 2025. In addition to the turnouts, voestalpine Railway Systems is also involved in providing the base plates, steel sleepers, and dedection and driving rods.
In addition, Spherolock NG will be supplied as the locking system.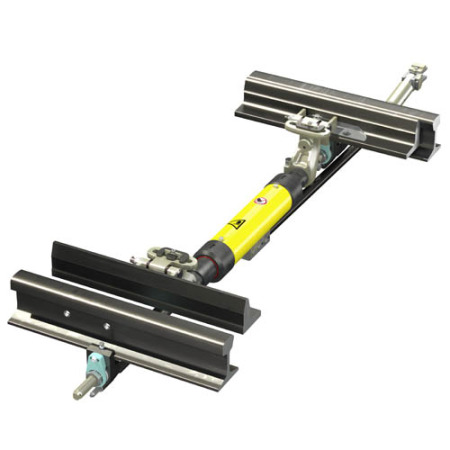 SPHEROLOCK® is a fully encapsulated, long-term lubricated locking system with a revolutionary locking principle. This locking system meets the highest requirements placed on reliability, minimum maintenance requirements, environmental compatibility and a very long life cycle at considerably reduced costs.
Beyond the installation, voestalpine Kardemir Demiryolu Sistemleri Sanayi ve Ticaret Anonim Şirketi ("VADEMSAS") was contracted as service partner.
A very successful year with great projects. Thanks to the overarching cooperation within the voestalpine Railway Systems Group, we were able to offer our customers a holistic package.
Güven Dursun, CEO, VADEMSAŞ.