Steel production in Donawitz has a tradition
With more than 140 years of technical experience, voestalpine Stahl Donawitz GmbH is now a sought-after supplier for demanding product segments. We stand for a value chain that is consistently geared towards the production of premium steel products and are constantly investing in research and development to ensure that this continues.
Our goal is to create products that ensure optimum results in further processing. In order to meet the future needs of our customers as well as new market requirements, we are increasingly focusing on product and material development, which includes the following priorities:
Product Development
Process Development
Digitalization & Big Data
Environment Residues
Testing Technology
Technology Monitoring
Innovation and Knowledge Management
Innovation from tradition
Innovative services in steel are an integral part of the Donawitz site. The list of events ranges from the co-development of the LD process in the 1960s to the compact steelworks and the revolutionary developments in the field of rail. The new CC4 continuous casting plant is our heart of steel production and enables a new dimension of quality in terms of steel purity and homogeneity of the products.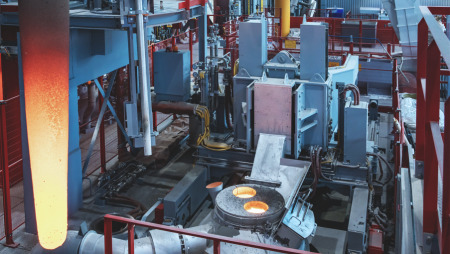 In the large-scale technical sector, product and material developments are often associated with many hurdles: Too time-consuming and cost-intensive, too complex. In order to break new ground, it is necessary to be able to conduct research quickly and flexibly with very small quantities. At the same time, however, the results must also be optimally transferable to large-scale plants. We at voestalpine Stahl Donawitz have created an institution that enables research and development to be carried out in an innovative, flexible and application-oriented manner parallel to production - with the "Technikum Metallurgie (TechMet)" and the "Metallurgie Labor (MetLab)". They are wordwide unique in their constellation and allow us to think and test outside the norm.
The department of research and development deals with the evaluation of raw materials and input materials as well as with the areas of product, process and customer-specific material development.
High level of basic know-how as a basis for new innovations
Highly qualified staff and a state-of-the-art, accredited testing center are available to deal with the R&D issues, where mechanical-technological, metallographic and electron microscopic as well as dilatometer investigations can be carried out.
The focus of operational as well as strategic R&D work is to develop customer- and business-oriented solutions to complex issues. To this end, cooperation with university and non-university research institutions (e.g. Christian-Doppler-Gesellschaft, TU Graz, Montanuniversität Leoben, K1Met) but also competence centers at national level is forced. Approximately 20% of the total R&D budget is in the field of applied research.