Our plant in Biederitz, district of Königsborn, is located close to Magdeburg, the state capital of Saxony-Anhalt, in a logistically interesting location.
Extensive storage capacities with appropriate crane systems allow the handling of rails up to 210 m in length.
Storage area: approx. 25,000 m2
Storage capacity: approx. 800,000 m
Length of facility: approx. 740 m
Storage of: Standard rail lengths of 60 m, 120 m, 180 m, 210 m and any custom length
2006: Fundação e nova construção como uma planta de soldagem de alto desempenho para o rolo de 30 m de comprimento, o que era comum na época pela ThyssenKrupp AG como ThyssenKrupp Langschienen GmbH

2009: Otimização das plantas em rolos de 120 m de comprimento e ampliação dos rolamentos de trilhos

2010: Passa a ser chamada ThyssenKrupp long rails, área de negócios da ThyssenKrupp GfT Gleistechnik GmbH

2014: Aquisição da fábrica pela voestalpine AG e estabelecimento de uma GmbH sob a liderança da Divisão de Engenharia de Metais da voestalpine AG, como Voestalpine Rail Center Königsborn GmbH
Ralf ZIEGLER
Managing Director - CEO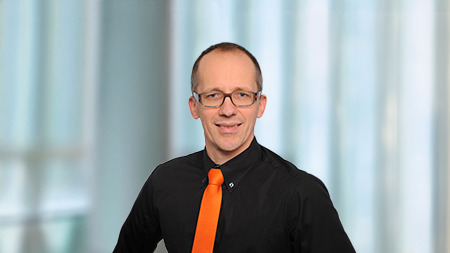 Günter SORGMANN
Managing Director - CFO
Innovations at voestalpine Track Solutions Königsborn
In order to meet the high demands of modern European railways, voestalpine Track Solutions Königsborn GmbH offers special innovations.
A special feature are the ultra-long rails with a length of up to 360 meters. They offer significant economic benefits:

More rails per shipment = lower freight costs
Faster construction progress = higher productivity

New rails welded like rolled
Improved driving comfort while reducing maintenance costs
Our production process allows us to machine the weld area and the entire rail, enabling us to produce up to 360 meters of rolled rail with tolerances
The longitudinal flatness of the finished rolled product is significantly improved and the track geometry is positively influenced
Applications
Site-specific rail lines delivered just-in-time to the construction site.

With our technology and modern machinery, we meet the high demands of efficient and safe track construction. With our flash butt welding process, we guarantee a high welding quality. We manufacture long rails up to 210 m in length, which can be milled to significantly improve their service life. In this way, we work with the latest technology and meet the requirements of future-oriented rail transportation.

Our modern crane systems enable us to handle up to 25,000 meters of rail per day.

Product range:

Long rails / rail strips up to 210 m in length
Fitting rails of any length
Mill Skin milling
Transition rails in approved profile combinations
Insulated joints of any type
Custom fabrication to customer specifications

We refurbish old rails in accordance with the Deutsche Bahn standard 918255 and supplementary guidelines/standards.

For this purpose, we can store dismantled rails from construction sites for refurbishment.

The reusable lengths are cut from the rails. Among other things, old welds, boreholes, and rail soil are removed.

The rails are straightened vertically and horizontally and ultrasonically inspected for defects. They are then welded to the ordered length. A CNC rail milling machine is then used to reprofile the running surface and the running edge.

The result is a reconditioned rail that meets DB standards and provides a high-quality alternative to less frequently used rails.

The possible storage volume is up to 100,000 m.

As part of the bundling of core competencies within the voestalpine Railway Systems Group, we offer you the development and construction of extensive track and turnout systems for the equipment of tunnel construction sites worldwide. Your familiar contact persons at former voestalpine Klöckner Bahntechnik GmbH will now be available to you at voestalpine Track Solutions GmbH:

Design and construction of special solutions for tunnel railway construction, in particular turnout systems, support structures or special tracks
Manufacture and delivery of rails and rail systems with special fastening and connection systems
Delivery and, if required, installation on site, as well as other services related to the tunnel track, e.g. grinding

We design and supply customized solutions for continuous and discontinuous crane runways with A-rails, MAS-rails and Vignol-rails, including the necessary fasteners, pads and substructures.

Advice: We make customer wishes possible. You will receive competent advice with qualified solutions tailored to your individual needs.
Superstructure Help: As part of our "superstructure help" we serve our customers directly from our extensive warehouse.
Delivery to small job sites: We deliver to small construction sites directly or by groupage, depending on your needs.
Material testing: Our own testing facilities enable us to carry out the necessary tests, such as flexure tests, in a timely manner and to continuously demonstrate the required quality to our customers. We also offer these material tests as an external service.
Wagon repairs: If required, we can repair rail vehicles in accordance with DIN EN 15085.

As part of our logistics, we ensure that

the transports reach the construction site at the desired time - just in time
that the tracks are "on the right side", i.e. that they reach the site in the right direction and in the right order according to the customer's requirements.
The necessary shipping documents are prepared, the formalities are properly completed, and the necessary documents are fully available to the site personnel:

e.g. the rail plan, which graphically shows the order and quantity of rails to be laid.
information on track category, train speed, track loading and modification date
when the unloaded vehicles are available for reloading.
Quality
We always work in close contact with our customers, be it in the execution of the commissioned services or in the provision of technical advice.

We share the knowledge we gain from our production and testing processes with interested specialist customers and clients, in order to promote the further development of the rail product in a sustainable and future-oriented manner.

Last but not least, our affiliation with the world market leader in rail and turnout technology ensures the fastest possible customer-oriented implementation of the latest findings.

The continuous professional development of our employees ensures our high quality standards in the long term.

The high demands placed on modern railways and the high quality of our services must be verified on a daily basis.

Our certifications and approvals, which have been successfully obtained since the company was founded in 2006, confirm our performance.

We are constantly adding to and renewing all of our credentials to meet the needs of potential customers.

This means that we have all the prerequisites to supply the construction sites of Deutsche Bahn AG in accordance with their standards and guidelines.

The international certifications of our management system are supplemented by product- and process-specific approvals, which are a prerequisite for a rail welding company that wants to serve the track network operators with quality that is internationally and nationally comparable.

Due to ongoing updates and additions, we ask that you check with us daily for the latest certificates as needed.