VAsuperior®-ET
More than ready to face the extremes
VAsuperior®-ET combines the product characteristics of VAsuperior with enhanced torque capability.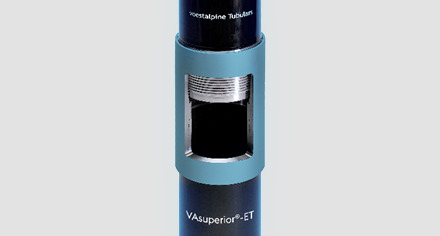 Gas tight proprietary thread connection
Metal to metal seal
Internal shoulder
Smooth internal profile
Improved protection against transport/hanlding/installation damages
Enhanced torque capability
Product characteristics
Metal to metal steel
Ensures well integrity
The robust metal to metal seal design ensures gas tightness under combined loads.
Protective design
Prevents you from unexpected costs
The distance from the pin face provides protection against transport, handling and installation damages. The recess before and after the seal area is a lubricant reservoir where excess thread compound is forced to prevent a pressure build up due to trapped and compressed thread compound.
Fast & easy make-up
Saves running time
The thread design allows easy and fast make-up in the most severe conditions.
Smooth internal profile
Minimizes turbulences
The flush internal profile minimizes turbulences and provides good conditions for internal pipe coating.
Enhanced torque capability
Ensures the connection is not the limitation
The connection has been physically validated to demonstrate structural integrity even during scenarios where enhanced yield torque capability is needed.
VAsuperior®-ET information
More links