Quality is the vital prerequisite for products that have to withstand extreme conditions
Today the mill is operating at the highest technological standards. A sophisticated energy management system ensures an optimal allocation of temperature prior to the rolling process. A constant temperature is essential for the uniformity of the wall thickness and concentric inside and outside diameters of a pipe. The advantage for the user: Even distribution of operational stresses and uniform mechanical properties. In addition, this system ensures efficiency and the optimal input of environmental resources.

From the billet (delivered by another voestalpine company) to the pipe, customers can trust the quality. Production data measurements in real time provide possibilities for detection of manufacturing failures before they occur.

voestalpine Tubulars' commitment to quality is based on reproducible processes, state-of-the-art-technology, efficient inspection methods and the dedication and knowledge of its employees.
The test center
The rapid progress of technologies in oil and gas drilling creates a greater challenge for thread connections and mechanical properties (steel grades). Since July 2014, voestalpine Tubulars is able to perform all the important tests for quality and further development of oil and gas pipes on-site in Kindberg. The test center is one of the largest and most modern of its kind. Resistance and durability of the pipes is able to be verified by our testing facilities.
Accreditation according to ISO/IEC 17025:2017
With the recognition of the accreditation according to ISO/IEC 17025:2017 by the national accreditation body of the Federal Ministry for Digital Economic Affairs, our test center was able to prove its competence in the testing activities we perform in the field of mechanical materials testing as well as in testing the sour gas resistance of steels.
The accreditation represents an international recognition of test results obtained with standardized testing methods and is therefore an enormous benefit for our customers and for us.
Test results provided to our customers have the same significance as those obtained by external testing bodies. Therefore, new product developments can be tested by ourselves according to international standards. This reduces the time from development stage to market significantly.
Now we can also offer tests with internationally recognized test certificates for external companies at our location.
Which test procedures can we perform accredited?
Corrosion tests
Hardness tests according to Brinell
Hardness tests according to Rockwell
Hardness tests according to Vickers
Impact tests
Spark spectrometries
Tensile tests
For details regarding the scope of our accredited testing methods please click on the following link:
Sour gas laboratory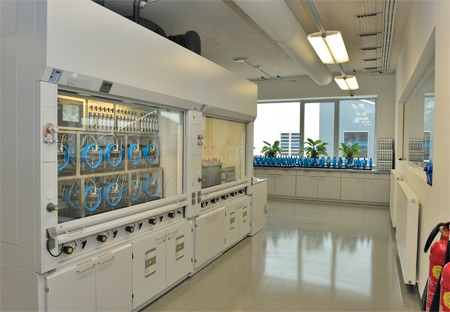 Method D – NACE standard double cantilever beam test.
Method A – NACE standard tensile test.
HIC – Hydrogen Induced Cracking test.
OCTG connection test center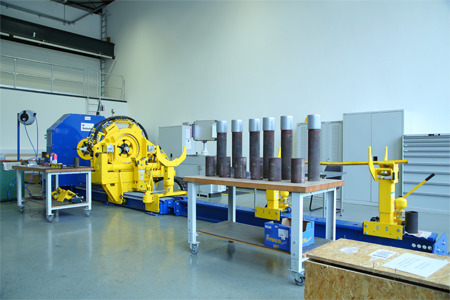 Rotating fatigue test.
Make-up/Break-out tests.
OCTG Connection testing.
Other testing units
Manufacturing of reference indicators for non-destructive testing, electro discharge machining, sawing, and magnetic particle inspection.
Tensile test
Metallography
Hardness test
Charpy impact test
Four point bend test
Chemical laboratory
Explore more pages