In 2016 the apprentice workshop in Krems celebrates 60 years and in the same year the thousandth apprentice finished his education here in Krems. The training is being conducted in close cooperation with our sister company at the location, voestalpine Krems. Good to know: almost all apprentices start working within the voestalpine group after their apprenticeship.
You can choose between the following apprenticeships:
Metal technology - mechanical engineering
Process engineering
Electrical engineering - systems and industrial engineering
Within an apprenticeship at voestalpine you have plenty of interesting stages:
Basic and professional training in the apprentice workshop
Practical training
Internship abroad for the best apprentices
English
Healthy eating, back training, addiction prevention
Are you interested in starting your apprenticeship with us? Apply now and usw the application form (check "Downloads" on the right). We are looking forward to meeting you!
You can read more about apprentices within voestalpine: www.voestalpine.com/lehre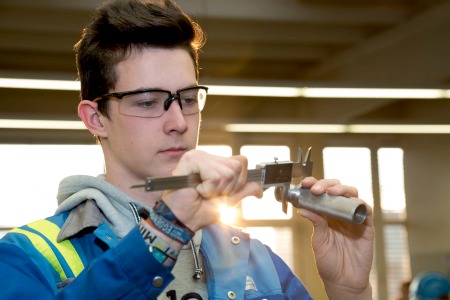 If I had to decide once again, i would definitely choose voestalpine all over. It was definitely the right decision for me! I feel very comfortable in our great community and I made a lot of new friends. No day is like any other, I love the variety and I'm able to learn something new every day.



>> you can read the full experience
report of Daniel here