Nortrak Values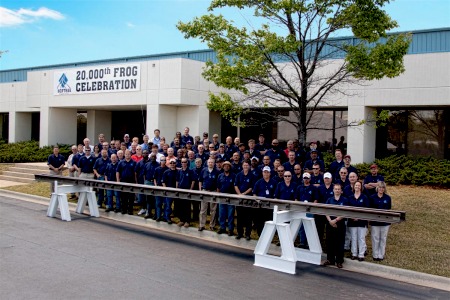 voestalpine Railway Systems Nortrak is committed to fulfilling our
customer's expectations by providing quality products at the right price,
delivered consistently on time.
This is achieve by:
Proactively working to address and solve problems;
Rigorously complying with specifications and quality standards;
Improving processes, products and technical competence on a continual basis;
Doing what we said we would do - every time; and
Encouraging open and constructive dialogue with customers.
Other foundational commitments include:
At voestalpine Railway Systems Nortrak,
Safety is the #1 commitment
to our People and...
Quality is the #1 commitment
to our Customers.

Workers safety through UCARE:
Unsafe workers will not work for Nortrak;
Confront unsafe conditions or behaviors;
Ask, if unsure how to safely perform a task;
Report all injuries, no matter how slight, to your supervisor or manager; and
Everyone is responsible for safety.

At voestalpine Railway Systems Nortrak we recognize
and embrace our responsibility to a sustainable future.
Accordingly, we are committed to operating in an efficient and
environmentally responsible manner. Our strategy focuses on
preventing pollution and continually improving environmental
performance. Our approach is reflected in our "CLEAR" statement:

Control environmental issues by managing our processes;
Locate sustainability opportunities while controlling risk;
Ensure compliance with all laws and regulation;
Advance environmental aspects through continuous improvement; and
Reinforcing Nortrak's culture of environmental stewardship.