greentec steel Edition
With greentec steel we are pursuing an ambitious step-by-step plan for the long-term decarbonization of steel production. As a first step, we already offer all flat steel products produced by the Steel Division based in Linz in a CO₂-reduced version (greentec steel Edition). This includes electrical steel, which is used in wind turbines, and high-tensile steels for lightweight automotive construction.
The CO₂ reduction is achieved by adapting the manufacturing process; for example, coke is partially replaced by hydrogen-containing reducing agents. The emissions savings are recorded and collected as CO₂ credits in a "CO₂ balance account". The CO₂ savings achieved in the production process and the current status of the balance account are validated externally and confirmed with a certificate.
greentec steel Products
Examples for our sustainable products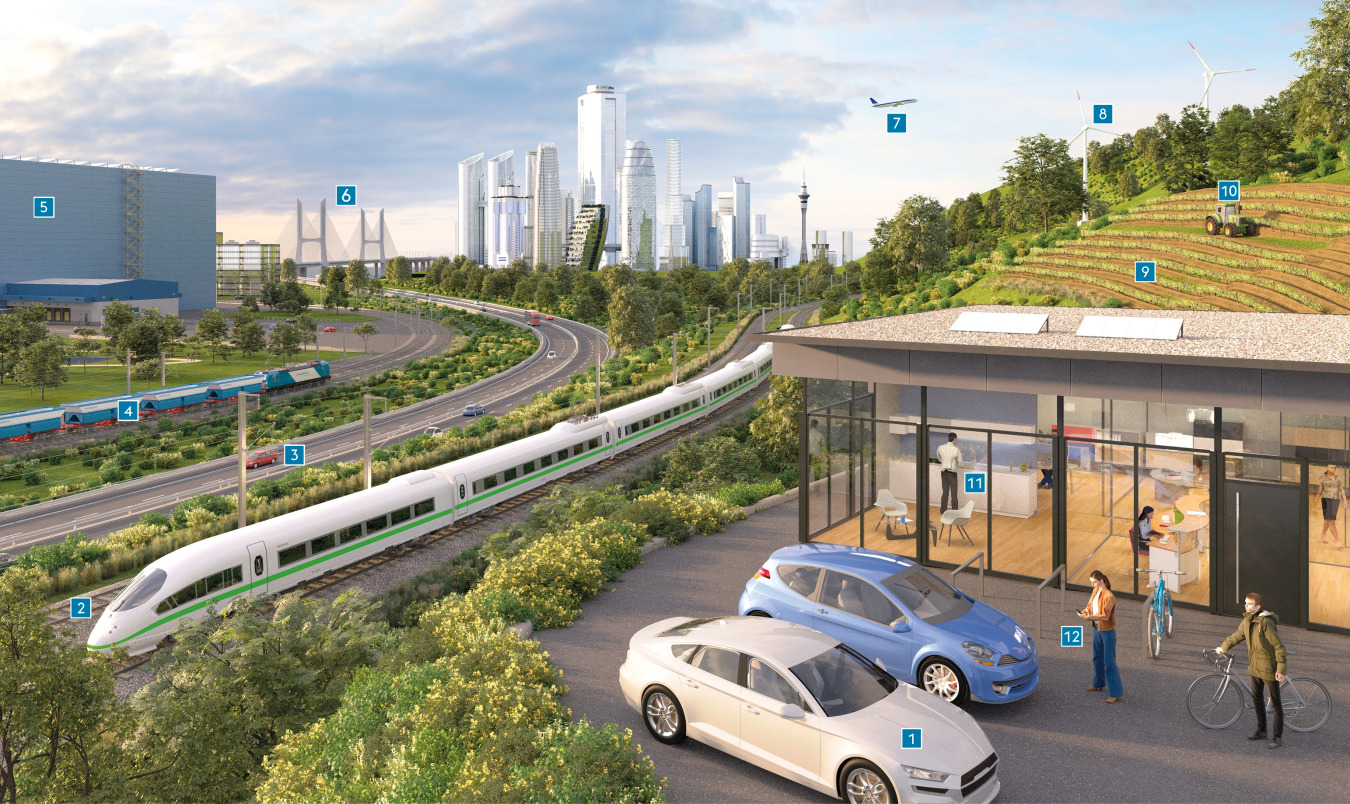 | | |
| --- | --- |
| [1] Automotive | High-strength car body panels made from lightweight steel |
| [2] Rails/Turnouts | Intelligent track changes even at high speed |
| [3] E-mobility | High-quality electrical steel for electric motors |
| [4] Railway | Modular lightweigth freight cars for ecological transport |
| [5] High-bay warehouses | Highly advanced steel sections for fully digital warehouse management |
| [6] Bridges | Superior-quality prestressing steel strands for stay cable constructions |
| [7] Aircraft parts | Precisely forged aerospace components |
| [8] Wind turbines | High-performance electrical steel for generators |
| [9] Digital vineyard posts | Durable steel posts with real-time information from the vineyard |
| [10] Agricultural machinery | Robust premium steel for tractor safety cabins |
| [11] White goods | Coated steel strip for refrigerators, washing machines and other household appliances |
| [12] Smartphones | Ultrapure plastic mould steel for mobile phones |