voestalpine VAE has taken measures towards continuous improvement of environmental standards at all plants of the Group for many years. Therefore, voestalpine VAE is considered as international benchmark for turnout technology in relation to environmental protection.
Our main goals are:
Continuous improvement of energy and raw material efficiency
Optimized plants in relation to HSE
Environmental-friendly product development and optimization regarding ecology, life cycle, and conservation of natural resources
Avoidance, reduction and high-grade recycling of waste generated during production
Continuous improvement of our environmental management system
The Environmental Reports give examples of continuous developments in this regard and activities of each plant and subsidiary.
Health Safety & Environment (HSE)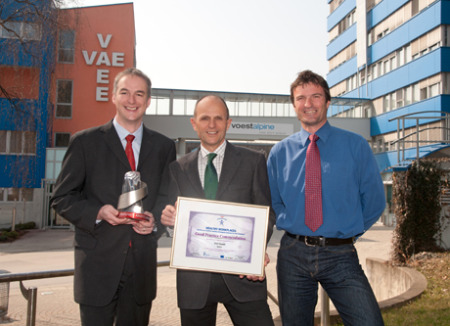 voestalpine VAE has always been committed to environmental protection, health and safety.
The well-being of our staff is a top priority. To keep people healthy and to prevent accidents and their effects on humans and the environment should be guaranteed by preventive measures. Through Group guidelines which must be adhered by all subsidiaries voestalpine VAE actively promotes environmental protection.
HSE Management can be found on 3 levels at voestalpine VAE:
HSE and customer:
It is important to us that our products are safe and environmentally sound in operation and during handling. As an example, we offer environmental-friendly encapsulated driving systems as well as low-noise designs and we use environmental-friendly coatings and wood treatment agents. In addition, our installation and maintenance instructions shall ensure that the safety of staff at site is guaranteed.
HSE and subsidiaries:
For our subsidiaries we provide Group guidelines. The central document is the HSE Guidebook which provides information and recommendations and also includes obligatory requirements (voestalpine VAE standards) for all plants. Continuous improvement of our Group members is a concern and is verified periodically.
HSE within voestalpine VAE:
In addition to instructions/codes of conduct related to environment, health and safety for our staff, we also offer trainings for various aspects in the area of HSE to keep people informed and motivated. These trainings include the use and handling of personal safety equipment as well as health courses (correct sitting, back and spine gymnastics, ..) and safety trainings (safety on track, travel safety,..).