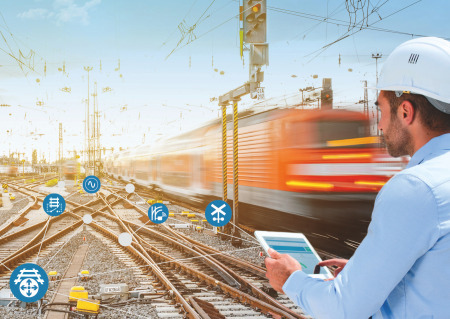 With our intelligent monitoring and diagnostic system for track and fixed infrastructure assets ROADMASTER®, we offer you fully digitalized and intelligent monitoring concepts, based on the latest technologies, customized to the requirements of your railway infrastructure.
Our highly-developed diagnostic systems and hazard alert systems efficiently avoid unnecessary preventative maintenance and ensure the greatest possible level of safety for the passengers and the goods to be transported. The direct recording of the asset condition and the evaluation of targeted information, both from track components and fixed infrastructure assets, allow for optimized asset management as well as efficient and targeted maintenance planning.
ROADMASTER® - Intelligent Diagnostic Platform
On our intelligent diagnostic platform, the direct condition recording of the monitored assets as well as the evaluation of targeted information takes place in order to enable optimized asset management and efficient maintenance planning.
ROADMASTER® Applications - Fixed Asset Tracking
ROADMASTER® offers various applications to provide infrastructure operators and maintainers with valuable information about the condition and performance of their assets.
How can we help you?
If you have questions or feedback, please feel free to contact us. We are happy to help!