VOEST-ALPINE AG up to the Breakup of Austrian Industries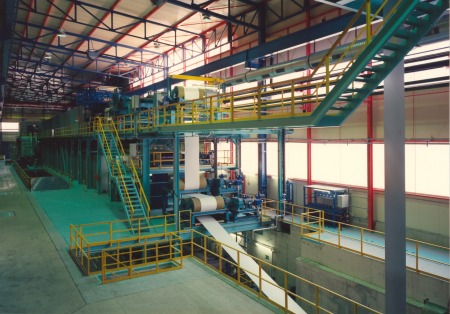 As a result of the developments in 1985, completely new corporate management was appointed in the spring of 1986. In that year and subsequent ones the workforce was greatly reduced. The Stahlstiftung (Steel Foundation) was founded in 1987 to provide support for employees who had lost their jobs. The goal of this innovative social institution was to provide new or improved skills to workers that would enable them to be reintegrated into the work process.
At that time, attention was focused on consolidation, streamlining and, to some extent, also remedial action. Following a thorough analysis of all business fields, in the fall of 1986 the so-called VOEST-ALPINE NEW concept was approved. A new organizational structure was developed, a streamlining program was agreed upon and an investment program was authorized. The funds needed for this were supplied by ÖIAG. The goal of these measures was to put VOEST-ALPINE back into the profit zone.
The 1986 ÖIAG Act changed the full name of ÖIAG to Österreichische Industrieholding AG (Austrian Industry Holding AG). In 1988 a fundamental reorganization of the ÖIAG Group led to the formation of six holding companies in different sectors as well as a complete restructuring of the steel sector of the nationalized industries in Austria. In 1989 these six holding companies of ÖIAG were placed under Industrie- und Beteiligungsverwaltungs-GesmbH (IBVG), a wholly owned subsidiary of ÖIAG, which in 1990 was converted into Austrian Industries AG and made the first step in the direction of the stock exchange through a "going public" bond.
In 1988 VOEST-ALPINE STAHL AG, which had emerged in the course of restructuring, achieved a turnaround in almost all segments. It encompassed six controlling companies: VOEST-ALPINE Stahl Linz GmbH, VOEST-ALPINE Stahl Donawitz GmbH, Böhler GmbH Kapfenberg, Böhler AG Düsseldorf, VOEST-ALPINE Stahlhandel AG and VOEST-ALPINE Rohstoffhandel GmbH. In the course of further structural streamlining and concentration, in 1989 a four-pronged group structure materialized: flat products, long products, special steel and trade.
Further work focused on the promotion of high-tech production with an even greater degree of processing and on increased internationalization to the west and east. A more long-term goal was to introduce environmentally wise and at the same time cost-effective processes.
Thus in 1987, among other things, an investment program motivated by environmental protection concerns was approved. Further developments included the following: In 1989 the coil coating line – COLOFER® – in Linz and the horizontal continuous caster in the special steel segment at Kapfenberg began operation. From 1990 VOEST-ALPINE SCHIENEN GmbH & CO KG set standards in modern rail production with the manufacture of ultra-long, special head-hardened rails of up to 120 meters. In 1991 VOEST-ALPINE Krems GmbH expanded its profile plant with a new line for special tubes and acquired the Belgian producer of cold-rolled sections SADEF N.V., and in Kapfenberg final work was completed on the multi-line rolling mill. In addition, in 1992 the most modern plate testing center in Europe was opened in Linz.
In 1990 VOEST-ALPINE STAHL AG was able to significantly improve its strategic position through both the acquisition of the Swedish Uddeholm Group, which in the following year merged with the companies of the Böhler Group to form Böhler-Uddeholm, and the decision to reorganize the long product segment.
Attention was focused on restructuring the companies allocated to VOEST-ALPINE STAHL AG., streamlining them and in some cases achieving a new strategic orientation. In 1992 a new organizational structure introduced at the end of 1991 – with decentralized responsibility for costs and operating profit, as well as the organization of business segments – was implemented.
At the end of 1993, in the context of the Privatization Act, three groups were created from Austrian Industries AG: VA Technologie AG, Böhler-Uddeholm AG and VOEST-ALPINE STAHL AG.