VÖEST up to the Beginning of the Formation of the Group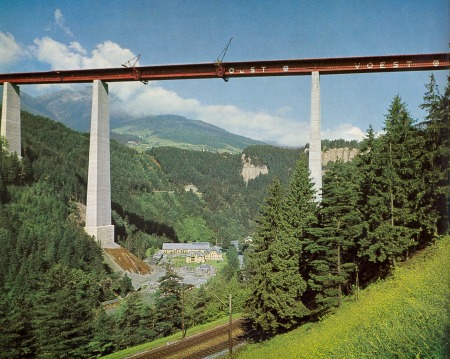 In the second half of the 1950s there was a big jump in production activities and sales revenues in Austria and abroad.
In 1956 VÖEST acquired all the capital shares of the LD licensing company BOT (Brassert Oxygen Technik AG, Zurich). This company administered LD patents and their utilization through the issuing of licenses. One year later VÖEST transferred half of the capital shares of BOT to Österreichisch-Alpine Montangesellschaft, which had participated in the development of the LD process.
In 1957 VÖEST began constructing seagoing vessels in order to prove that plates of LD steel were fully suitable for shipbuilding and also to achieve a degree of stabilization in the shipping costs of VÖEST's substantial overseas acquisitions of raw materials. In total, four seagoing freighters – Linzertor, Wienertor, Kremsertor and Buntentor – were launched by 1967.
In cooperation with the Fried. Krupp company in Essen, Germany, in 1958 VÖEST began construction in Rourkela (India) of the first LD steelmaking plant outside of Austria. This also marked VÖEST's entry into the construction of industrial plants on an international level. In the same year, after a number of years of intensive R&D work as well as testing in two of the three converters and various improvements, the dedusting equipment in the entire LD Steelmaking Plant 1 was completed. In 1958 the 4.2 meter heavy plate line at the plant in Linz began production and in 1959 LD Steel Making Plant 2 was started up.
In 1959 the public management of VÖEST, which had been in effect since the end of the war, was replaced by customary organizational bodies in accordance with stock corporation law. VÖEST received a Management Board, a Supervisory Board and an Annual General Meeting.
In 1960 management of Wiener Brückenbau and Eisenkonstruktions AG (WBB, later VOEST-ALPINE Hebetechnik- und Brückenbau AG) was transferred to VÖEST.
The plant's own harbor began operation in the same year, when construction work was completed, and 1962 saw, among other things, the start-up of a blast furnace rebuilt in accordance with the very latest technological know-how. The work and planning necessary for this was carried out by VÖEST employees. In addition, a VÖEST-constructed second cold rolling mill started operation and production of clad plates was begun.
Investment activities were primarily geared to the modernization and streamlining of the production lines. The Annual Report of 1962 added that:
The production capacity achieved has outstripped the increase in demand; and the already existing gap between production and sales will become even greater when additional iron and steelworks now under construction are completed. In keeping with economic laws of supply and demand, this will inevitably lead to increased competition and thereby to a decline in the price of iron. The big profit losses caused by this will also be accompanied by notable cost increases, especially with respect to personnel.