60 years ago, the world's first industrial converter for the LD process started up operation in Linz. A milestone in the history of steel production. And a special reason for voestalpine to celebrate – for that is when this state-of-the-art company was founded.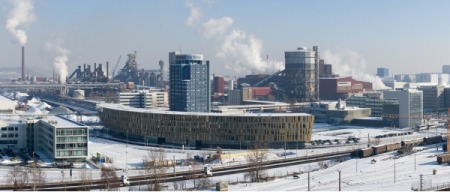 On November 27, 1952, after six years of research and development, the first smelt of 30 tons of LD steel was produced in the first LD steel plant at the former VÖEST in Linz. This was an important and major event for everyone involved, and also the start of the triumphant advance of the LD process: a method in which oxygen is blown through molten pig iron to convert it to steel. This process accelerated or first made it possible to combust the tramp elements from pig iron, which include carbon, manganese, phosphorous, sulfur, silicon, etc. Steel produced using the LD process is characterized by its purity and that it is fully recyclable – retaining its type and without loss of quality.
The first steps
The steel mill was already producing when it was inaugurated on January 5, 1953 by the President of Austria, Theodor Körner. The second LD steel mill went into operation shortly thereafter – on May 22, 1953 – at the Österreichisch-Alpine Montangesellschaft (ÖAMG) in Donawitz. By June, the first 100,000 tons of LD steel had been produced, and by the beginning of December 250,000 tons of steel had been smelted. And that was just the beginning. The LD process quickly attracted international interest, and new marketing channels were developed.
Breaking new ground
In 1957, in order to prove the suitability of sheet metal made of LD steel for shipbuilding, VÖEST decided to build seagoing ships. And just over a year later, on December 1958, the "M.S. Linzertor" was launched. This first VÖEST produced freight ship had a load capacity of 14,000 tons. This ship proved to all critics that LD steel was the ideal material for shipbuilding. Less expensive to produce and much purer than previously used steels, LD steel completely satisfied shipowners and shipbuilders. And by the end of 1959, around 50,000 tons of LD steel had been sold to the shipbuilding industry alone.
Also in 1957, at the same time that it was developing shipbuilding as a distribution channel, VÖEST started up another totally new business area: together with the Krupp company, VÖEST set up the first LD steel mill outside Austria – in Rourkela, 460 km southwest of Calcutta. This was virtually the start in international industrial plant building, which went on to become one of voestalpine's main businesses.
LD steel is shaping the world
In 1960, 4% of the global total crude steel production was produced using the LD process. In 1970 this figure was already 40%, in 1974 it rose to almost 50%, in 1992 it was 60% and today, 60 years after the first casting in Linz, around two-thirds of the world's steel is produced using the LD process. Thanks to the LD process, global steel production has increased from 200 million tons at that time to around 1.5 billion tons per year. It is only due to this process that certain grades of steel or steel applications are even possible – e.g. in the automotive and energy industries.
Read the full story
Find out more about how the LD process was discovered. voestalpine will send you the brochure upon request. Send an e-mail to innovation@voestalpine.com with "Brochure: The Linz-Donawitz Process" in the subject line.
60 years of the Linz-Donawitz Process