Stimulating and challenging working environment 3 minutes spent reading
Working environments
Stimulating and challenging working environment
Christopher Eberl
Holds editorial responsibility for career topics and for the apprentice website. His stories offer insights into the world of work at voestalpine.
In the following interview Sonja Schadler, a project manager working in research & development, talks about studying at the Montanuniversität and her working environment at voestalpine Stahl Donawitz GmbH.
Sonja Schadler studied Industrial Environmental Protection with a focus on process engineering at the Montanuniversität Leoben. It was during her studies that she came into contact with the voestalpine Group and decided this was where she wished to work. She has been a project manager working in research & development on reduction metallurgy at voestalpine Stahl Donawitz GmbH since 2012. Find out more about Sonja Schadler in the following interview:
As a student, when was the first time you came across voestalpine?
I already knew all about voestalpine before my studies as several family members worked at the company. And during my studies I spent several periods at voestalpine as a working student, and so I knew the company well.
Which degree and career path finally brought you to voestalpine?
After graduating from the Montanuniversität Leoben I worked at Böhler Bleche in materials testing and quality management.
"After several years there I was looking for a career change, and decided I wanted to return to my technical roots in process engineering. So I applied to for a research & development post at voestalpine Stahl Donawitz."
What is your current role at voestalpine and what aspects of your degree do you use in your work?
In my work as a project manager I am deeply involved in the specialist field of production workflows and optimising them in a variety of ways. This includes logistical processes, such as the transport and storage of raw materials, environmentally relevant processes, such as emissions and wastewater treatment, and energy optimization, right through to the actual metallurgical production processes.
"Other broad areas of activity include plant technology, measurement technology, data evaluation and automation, and here the buzzwords Industry 4.0 and Big Data are hugely relevant."
What advice would you give a Montanuniversität student or graduate about their professional future?
I would advise every graduate to be brave and to think out of the box, to welcome challenges and take a positive approach to change. That keeps everyday work routines interesting and stimulating.
What do you particularly appreciate about voestalpine Stahl Donawitz GmbH?
I appreciate that at voestalpine I enjoy an interesting and challenging working environment with flexible working conditions, where I can also organize my free time, continue to educate myself, and where personal development is encouraged.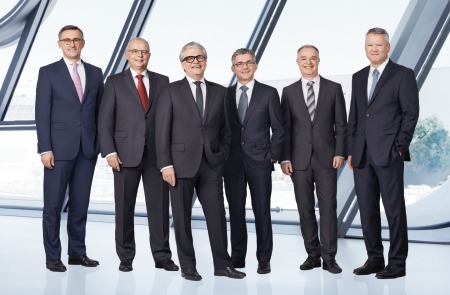 voestalpine Studentenabend 2017 an der Montanuniversität Leoben
Der Gesamtvorstand der voestalpine AG – Wolfgang Eder, Herbert Eibensteiner, Robert Ottel, Peter Schwab, Franz Kainersdorfer und Franz Rotter, die beiden letzteren selbst Absolventen der Montanuniversität Leoben – geben am 6. März 2017 Studierenden aller Studienrichtungen interessante Einblicke zu Themen wie Berufschancen, Forschung und Zukunftsprojekte des weltweit agierenden Konzerns.